Case Report Describes White Matter Lesions, New Mutations In CMTX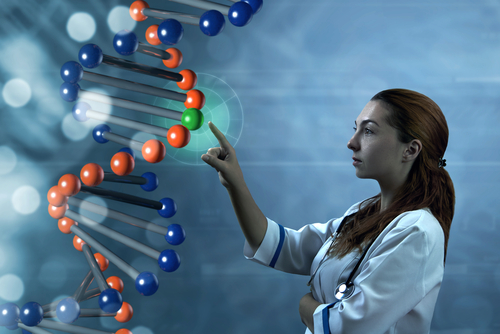 Central nervous system (CNS) dysfunction, manifesting as reversible posterior leukoencephalopathy , was observed in three people with X-linked Charcot-Marie-Tooth (CMTX) and described in a recent case report.
The case report, "Recurrent episodes of reversible posterior leukoencephalopathy in three Chinese families with GJB1 mutations in X-linked Charcot-Marie-tooth type 1 disease: cases report," and published in BMC Neurology, also described two new mutations in the gap-junction beta-1 gene (GJB1) gene that cause CMTX.
To date, more than 400 CMTX-causing mutations in GJB1 have been described. Through mechanisms still not understood completely, these mutations cause problems in the nervous system such as loss of the neural "sheath" protein myelin, ultimately resulting in the symptoms of CMT.
Depending on the specifics of a given case — including an individual's particular genetics (i.e., GJB1 mutation) — CMTX can emerge differently person-to-person, including both symptoms and clinical features.
The recent case report describes young people from southern China who  presented with CMTX: The first, a 17-year-old male, went to the hospital following sudden confusion, abnormal movements, and difficulty speaking. The second, a 15-year-old male, went to the hospital after the acute onset of limb weakness and speech problems. The third, an 18-year-old male, had sudden weakness of the left arm.
Although they all ultimately recovered without much therapeutic intervention, all three were subjected to a battery of clinical evaluations in order to determine the cause.
Many of the findings reported were similar for all three individuals. For instance, all had abnormal tendon reflexes, all had pes cavus (an abnormally high arch in the foot), and neurological examination suggested that their nerves were sending signals much more slowly than what is typical.
Interestingly, all three of the individuals shared an unusual feature: lesions in white matter. (White matter contains axons, which are the parts of brain cells called neurons that are used to send signals.)
The lesions, which were observed with magnetic resonance imaging (MRI), are usually indicative of a loss of myelin (the sheath protein), which is critical in allowing neurons to efficiently send electrical signals. Their presence also is referred to as posterior leukoencephalopathy.
Although other neurological conditions were suspected initially, genetic testing revealed that all three individuals had mutations in the GJB1 gene, making CMTX the most likely diagnosis. Interestingly, two of these mutations (c.563 C > T and c.103G > C) have never been reported in  published scientific literature.
The presence of white matter lesions in CMTX, in contrast, has been observed before; there are more than 30 documented cases.
"Most these cases, as well as our cases, have similar clinical features," the authors of the case report noted. These features include being males between the ages of 10 and 20 years old, having pes cavus (Latin for "hollow foot"), and nerves sending slow signals.
They also noted that symptoms tended to be transient (temporary, appearing for some time then resolving), and there were, "Good outcome of CNS [central nervous system] lesions in most cases" — lesions tended to resolve on their own in a matter of weeks or months, as in these individuals.